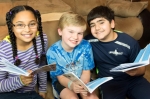 Are you ready for it? The largest migration of mammals takes place in Canada in September. It is also taking place in the northern U.S. as well as other parts of the world. It starts the day after Labour day and (depending where you live in Canada) lasts for the next few weeks. What is it? The return of some 5 million plus children going back to school.
In most cases, preparation for this migration had been made by parents. They prep by obtaining books, school supplies and uniforms (if required) for their child's journey. As the day of migration approaches (day after Labour Day, typically)., much merriment is made by the parents.
If you have kids or grandkids, how will you celebrate this triumphant migration and the freedom it brings you until they migrate back home for the summer in May / June? Share your thought by way of a comment.